Brothers
One of our best sellers, Da Big Bomb Box offers four different and amazing cakes per case. Each cake is a 36-shot destroyer with a 12-shot finale.

Atom Bomb: A big bad blast of crackling tails to red and crackling stars and green and blue bouquets.

Hydrogen Bomb: A mushroom cloud of colored mines to multi-colored spinners with reports.

Neutron Bomb: An explosion of comet and flashing tails to bouquets, stars and flying fish. A great finale of whistling tails to reports and crackling. Duration: 55 secs.

Cobalt Bomb: Saving the best for last with an array of whistling tails to palms with flashing and whistles.
Dimensions 10.5 L × 10.5 W × 8.0 H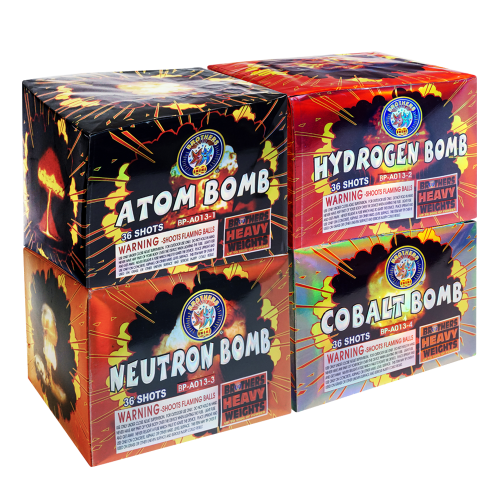 Spirit of 76
Similar Products
Customer Comments
Posted by Biagio S | June 19th 2018
THE NAME SAYS IT ALL ITS A MUST GETER LOVE THEM
Posted by William W | September 4th 2020
Nice set.
Posted by William W | September 4th 2020
Great colors, effects and duration.
Posted by Roy D | January 4th 2021
Pretty assortment. Offers great effects especially when paired in a display or show.