Firehawk
Spicy Hot is one of the hardest-hitting cakes from Firehawk. Ten great shots of whistling and crackling tails to loud breaks of chrysanthemums and peonies with crackling. For a red, white, and blue version, check out GM510 Ridiculous.
Dimensions 13.2 L × 11.2 W × 9.5 H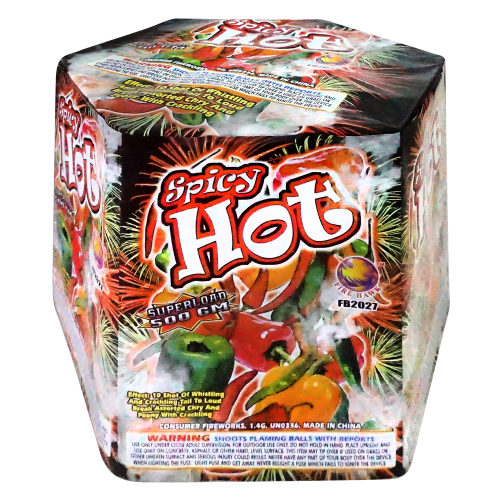 Spirit of 76
Similar Products
Customer Comments
Posted by Timothy W | January 23rd 2012
i love the crackling effects.this was,hands down,my favorite pick from last year.will order again if available. BEAUTIFUL.....PERSONAL FAV.
Posted by Matt R | August 19th 2014
Have shot this product each year for the past three years. BIG and LOUD, exactly what I want from a 500 gram.
Posted by Bob T | June 7th 2015
One of my favorite cakes!!! Always a must buy every time I order. It would be nice if Spirit of 76 kept plenty in stock.
Posted by Joshua M | January 21st 2016
This was a customer favorite and one of mine, just enough whistle and crackle to differentiate from the other cakes. Still plenty of bang!
Posted by Chris R | February 23rd 2017
They changed the crackle finish in this cake and its finale is pretty weak. Used to be an awesome finale. The cake is good but not as good as it used to be.
Posted by Kent L | June 19th 2018
Why change the delayed cracking finale? Still a solid cake!
Posted by Lavell T | July 11th 2018
The Best 10 Shot Cake Ever...Must Have Every Year....Thanks 76
Posted by William W | November 3rd 2020
Loud and large breaks. Good color and duration.
Posted by William W | July 20th 2020
Very nice. Loud colorful breaks.