Winda
One of Windas top cakes, Super Stunt packs a punch. Two-inch tubes launch shells of red, green, silver, and golden wave. Incredibly massive breaks!
Dimensions 11.0 L × 10.3 W × 8.6 H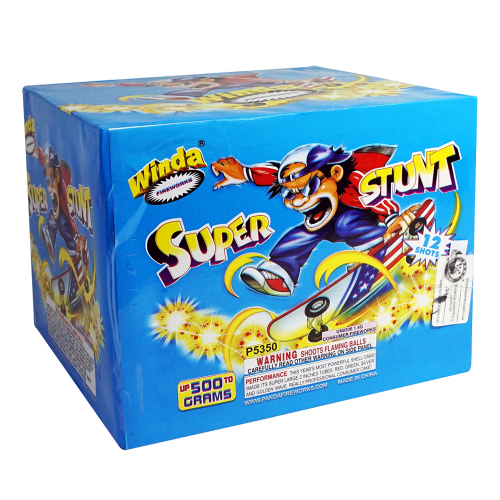 Spirit of 76
Similar Products
Customer Comments
Posted by Chris R | May 20th 2013
Buy as many as you can. My favorite 12 shot on the market and I have shot a lot of 12 shot big breaking cakes!
Posted by James D | April 2nd 2015
HUGE!
Posted by Brian G | April 2nd 2015
5 stars! Awesome!
Posted by Steve S | April 2nd 2015
Buy it! Huge breaks!
Posted by Paul B | April 2nd 2015
Large bursts. Real different effects.
Posted by Jacob A | June 17th 2015
Big Bang! Large starburst
Posted by Henry F | June 15th 2015
Great! I buy this one every year!
Posted by Bob T | June 7th 2015
Another one of my favorite cakes. A must buy each time. I hope Spirit of 76 keeps plenty of these on stock also.
Posted by Adam S | January 21st 2016
Would Definitely buy again. Good bang for you Buck.
Posted by REX L | May 25th 2017
Never a disappointment with this cake! Huge breaks! 10 cs. please! =)
Posted by Jeremiah F | November 13th 2017
Huge breaks...
Posted by Paul I | April 9th 2018
Big loud and beautiful,perfect!!
Posted by William W | July 20th 2020
Huge loud breaks. YES!