Winda
Spirit of 76 has worked with Winda to develop a great set of 500 gram cakes.

Palm King features red, green and silver palms with rain or glitter core.
Peony Garden features assorted color peonies with pistil effects.
Native Blue breaks with peonies and crown effects - all in blue and gold.
Dreamy Night is all willows.
Each cake is a 12-shot pyro masters dream come true.

Dimensions 11.0 L × 10.0 W × 8.8 H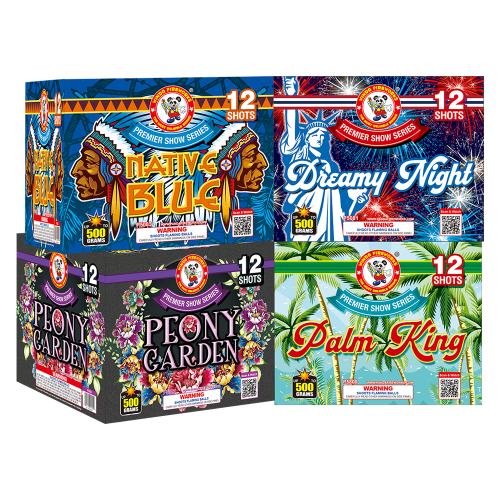 Spirit of 76
Similar Products
Customer Comments
Posted by Jeremiah F | November 13th 2017
Love the effects.
Posted by Curtis B | August 8th 2018
I have been buying this product since the first day I started ordering wholesale from 76. Every cake is unique, breaks high and hard, and is a MUST for any backyard enthusiast to add to their show. I truly love this masterpiece of a mixed case... just wish each cake came in a case too!
Posted by Eric G | July 11th 2019
Huge breaks. Dwarfs even the best mortars!
Posted by William W | November 3rd 2020
Loud breaks. Great colors, effects and elevation.
Posted by William W | October 1st 2020
Very nice set of cakes.
Posted by William W | July 20th 2020
Great set of cakes. Nice colors and effects.