Brothers
It is time for lame fireworks to get packing. Hit the Road, Jack shows them up with a big display of red and silver tails to bouquets, blue tails to blue stars, green tails to red, blue, and silver glitter, gold tails to brocade, purple tails to delayed crackling, and whistling tails to crackling flowers.
Dimensions 10.8 L × 10.8 W × 6.0 H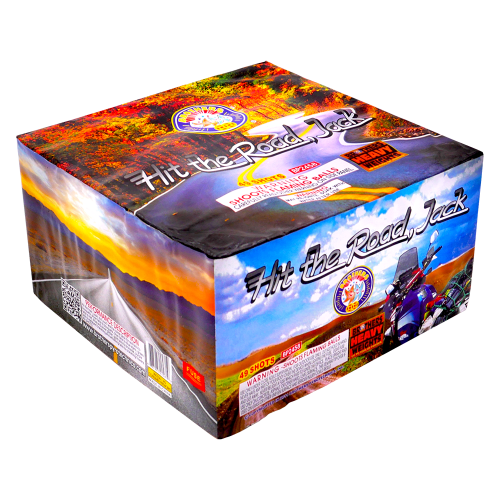 Spirit of 76
Similar Products
Customer Comments
Posted by Jacob A | June 18th 2015
Good value for 49 shots
Posted by Ryan A | June 15th 2015
Awesome pace, love the quick volleys!
Posted by Brent B | June 15th 2015
5+ Stars! Good one to buy!
Posted by Renee A | June 9th 2015
Attention grabber. Great finale with great color!
Posted by Lavell T | July 6th 2015
nice cake...love it
Posted by Zoe M | November 17th 2016
One of our all time favorites, for effect, duration, variety and value
Posted by Douglas S | July 3rd 2019
5/5 Videos don't do the cake justice.
Posted by William W | September 4th 2020
Booyah!