Brothers
A staff favorite, Bling Bling is one of the best multi-shot cakes in America. This cake tricks out the sky with green bling with purple stars, then red, blue and white bling to red and green bouquets with time-delay bling and crackling bling. Duration: 38 secs.
Dimensions 5.6 L × 5.2 W × 4.8 H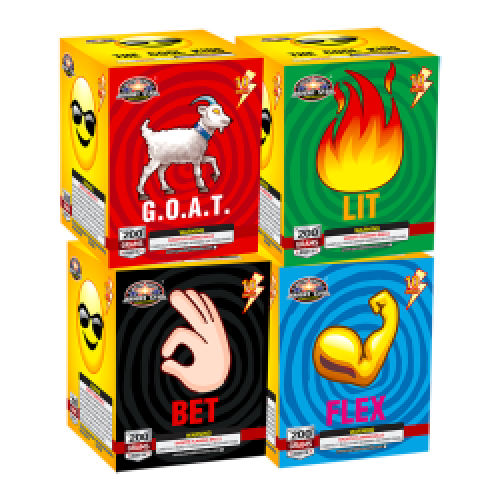 Spirit of 76
Similar Products
Customer Comments
Posted by Charles T | June 2nd 2014
Bling bling is the BEST firework for the money and is a must buy every year! Best if shot 2 at a time.
Posted by Bill A | June 18th 2015
Big Breaks!
Posted by Ryan A | June 15th 2015
Great pace! Nice effects
Posted by Edmund G | April 11th 2016
get a few cases every year. Great cake for the $
Posted by Lloyd J | June 11th 2017
I get bling bling every year I love that one
Posted by Todd W | January 29th 2018
It's no Angry Cowboy but it's good and been around a long time.
Posted by William W | July 20th 2020
Blingtastic. Add this cake to your show starters.
Posted by Brent B | November 30th 2020
Awesome cake