Brothers
Each break from Gunslinger is a shotgun-blast of pyro intensity! Crackling tails lead to red and green palm tracer rounds shooting from the center of each crackling flowers break.
Dimensions 8.7 L × 8.7 W × 6.0 H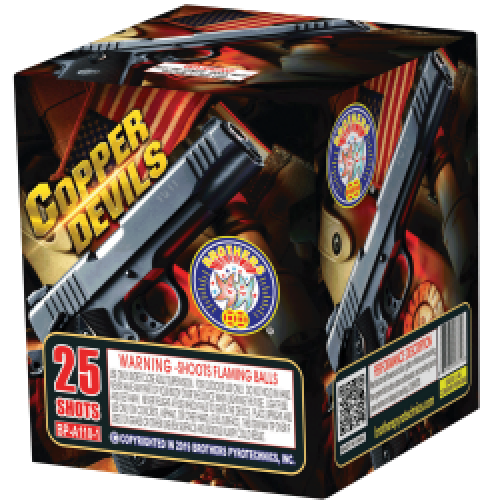 Spirit of 76
Similar Products
Customer Comments
Posted by Kyle H | June 2nd 2014
Pretty good
Posted by Chris F | August 19th 2014
Very Nice long running back, great ending, perfect for slowing down the show, add some mines under for some great effects
Posted by Brian G | April 2nd 2015
Big crackle!
Posted by JON S | July 6th 2015
Very nice piece. Spread a case out across the front and the crowd loved it.
Posted by Jeffrey W | September 4th 2020
Strong and long lasting cake great for middle of your show
Posted by William W | September 4th 2020
Nice cake, good duration.
Posted by William W | September 4th 2020
Great color, effect and duration.