Brothers
Brother's best-selling ball shell! This item sets the standard for what a ball shell is supposed to be. Every box is filled with 12 impressive shells of assorted effects. Each shell goes up with a comet tail.
1. Crackling and blue sparkle with tail.
2. White flashing and two whistles with tail.
3. Blue stars and bees with tail.
4. Red, white, blue stars and reports with tail.
5. Blue stars and double spinners with tail.
6. Crackling and blue flower, double shells with tail.
7. Red ring.
8. Green ring.
9. Green palm with crackling tail.
10. Yellow peony with green palm.
11. Red peony to crackling with whistling and tail.
12. Red stars to crackling and double spinners.

Dimensions 12.8 L × 21.3 W × 16.8 H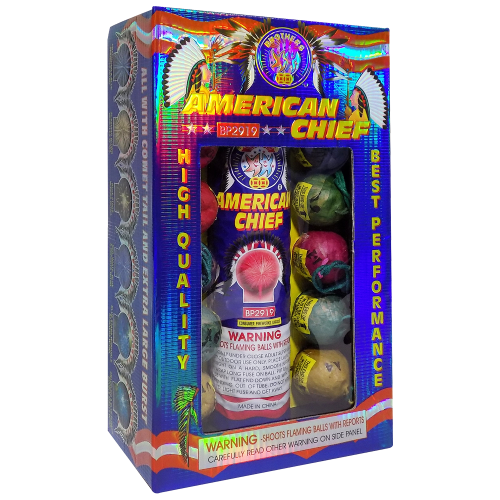 Spirit of 76
Similar Products
Customer Comments
Posted by Gino S | January 4th 2012
Nice high shots, good colorful breaks, no earlies and no duds. Great middle of the road shell here, you would expect as much from Brothers.
Posted by Brian G | April 2nd 2015
Nice bang! Good burst!
Posted by Bill A | June 15th 2015
Need to get! Best value
Posted by Jim H | March 21st 2017
A nice mix of effects and the comet tails help make these shells stand out from the other shells in a chain or sky puke.
Posted by Kent L | August 31st 2017
I shoot canisters ONLY but bought a box of these at a local stand. I was impressed at a little over a buck a shot!
Posted by Brent B | August 31st 2017
great little shell!