Brothers
The hottest selling artillery shell in the U.S.! Simply unbelievable breaks. Each box has three kits of six canister shells which are manufactured using newly developed techniques. You will see golden willows, cracking flowers, time delayed crackling, colorful bouquets, colored stars, flying fish, glitter, and multicolored scrambling comets.

Dimensions 15.8 L × 15.0 W × 5.8 H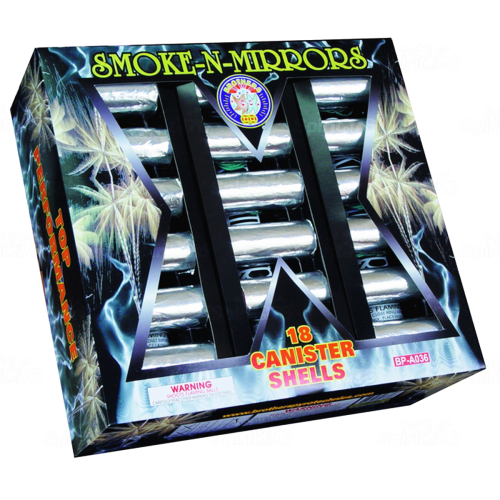 Spirit of 76
Similar Products
Customer Comments
Posted by Gino S | January 4th 2012
Gotta have a case these - always. Really wish they would label the can as to what effect it is though. Great product, great price.
Posted by Timothy W | January 23rd 2012
impressive breaks for 1.75.as good as any out there. if you are getting shells....get these. MUST HAVE.....fire multiple at once for best effect.
Posted by Edmund G | February 3rd 2015
Good breaks. Get every year. Use these and supernova cans. Set off 100 with fast fuse for my finale last year. https://www.youtube.com/watch?v=4FVwaBCU2VQ
Posted by Jameson G | February 3rd 2015
Wonderful product. Got it in combination with an assortment, and we had loads of fun on the 4th. We even had 2 boxes left over. Definitely worth buying
Posted by Steve A | May 25th 2018
Used several different types of shell's. I always go back to Smoke and Mirrors. Hardest and most powerful launch. Huge THUMP on Launch percussion. Very good altitude and good break! Very consistent and QUALITY shell. You can see my 9 min show in Lake Havasu City AZ 4th of July Show using ONLY Spiritof76 order! https://www.youtube.com/watch?v=T-hAzJgivFc