Firehawk
Khaotic KaBoom features BIG, LOUD shots. These 2" tubes will match up against any other 9-shot, but at half the price! Its a no-brainer this year - buy Khaotic KaBoom.
Dimensions 10.6 L × 10.6 W × 9.8 H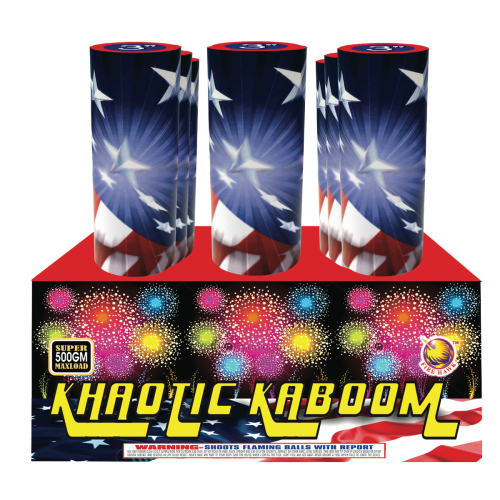 Spirit of 76
Similar Products
Customer Comments
Posted by Michael T | December 13th 2011
Dont let the price push you away, this 9 shot rack is awesome!!
Posted by John G | December 22nd 2011
I picked up this one last year. It's a little smaller than the other NOAB's but it is a great piece and at this cost it is one of my favorites.
Posted by Timothy W | January 25th 2012
Great addition to last years show. must have at every backyard show.....at least mine.
Posted by Josh B | March 12th 2012
Shot 2 cases last year. Stole the show.
Posted by Roger H | June 2nd 2014
Nice and high.
Posted by John and Mary H | June 2nd 2014
Big gold color, nice peach, and ends in crackle.
Posted by Scott S | June 2nd 2014
Very Symmetrical.
Posted by Kyle H | June 2nd 2014
Huge breaks, good variety.
Posted by Alex | June 2nd 2014
Good break, boom, and height.
Posted by Jon V | June 2nd 2014
Nice effects
Posted by Ryan | June 2nd 2014
WOW. Love it!
Posted by Matt R | March 23rd 2018
One of the best values! Great breaks!
Posted by Kent L | June 28th 2018
Why would you change the ending on this one? Delayed crackling finale was a lot better. Still a solid value cake.